An experienced manufacturer of solar products & components. Ratan's offers complete range of module mounting structures for PV based solar power and rooftop projects to suit ground or roof PV installations.
We can provide both hot dipped galvanization and pre-galvanized sheet structure. The structures are galvanized giving smooth and uniform thickness. The process is carried out under supervision of qualified engineers to ensure conformance to the following applicable standards.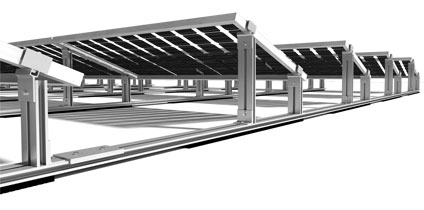 Key Offerings
Design
Manufacture
Quality Assurance
Quality Control
Shop Assembly
Shop Testing
Delivery at Site
Quality Standards
Ratan's module mounting structures (made of M.S. / Galvalume / Pre-Galvanised / Posmac / aluminium) confirm to following latest standards
Galvanization Standards
Ground Mounted Module Mounting Structure
Ground mounted structures consist of PV Modules (framed/unframed) held in place by racks or frames that are attached to the ground based mounting structure depending upon the nos. of modules per unit.
Every structure developed is a good bend of optimization and customization i.e. these structures can be customized to fit any type of PV module and can be optimized for varied soil types ranging from sandy deserts to hard rocky terrain. The arrangement of modules can either be Landscape or Portrait Oriented.
Ground Mounted Structure Variants
Fixed
Seasonal Manual Tilt
Ground Mounted Structure Supports
Foundation mounts-fixed to concrete slabs or poured footings
Ballasted footing mounts-concrete or steel bases that use weight to secure the solar panel system in position and do not require ground penetration. This type of mounting system is well suited for sites where excavation is not possible such as capped landfills. These systems simplify decommissioning or relocation of solar panel systems.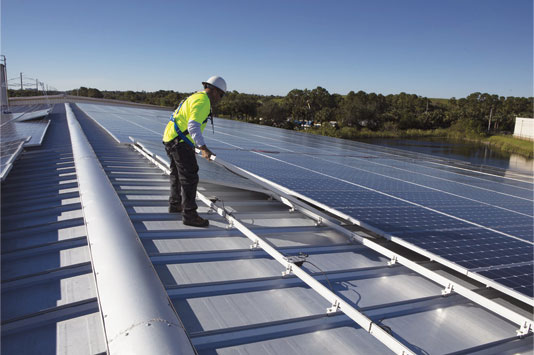 Roof Mounted Solar Structures
Roof mounted solar power systems consist of solar panels held in place by racks or frames attached to roof based mounting support.
Roof mounting structure supports
Pole Mounts attached directly to the roof structure and may use additional rails to hold the panel racking or frames.